I've seen a lot about
Stitch Fix
lately, so I thought it would be interesting to give it a shot. I had tried it out once and really enjoyed the experience, so I sent away for another fix last week. It's interesting to see how other people would dress you according to your body shape and colors and styles you say that you like.
I've really enjoyed reading over at
Little Chief Honeybee
about her fixes and I thought it was really cool to be able to see what she was sent and what she thought about her things, so I thought I'd give that a shot with my next fix, and here we are!
The first time around I came away with one piece that I really liked, but this time I'm having a considerably more difficult time making my decision. I can really only keep one item, so I'm for lack of a better word "polling" everyone I can get ahold of this week before I have to send everything back on Monday. If you have an opinion, I'd love to hear it! I'm down to three items, but here's my whole box so you can have a look and see how the whole process works if you've never heard of Stitch Fix or haven't been able to try it out yet.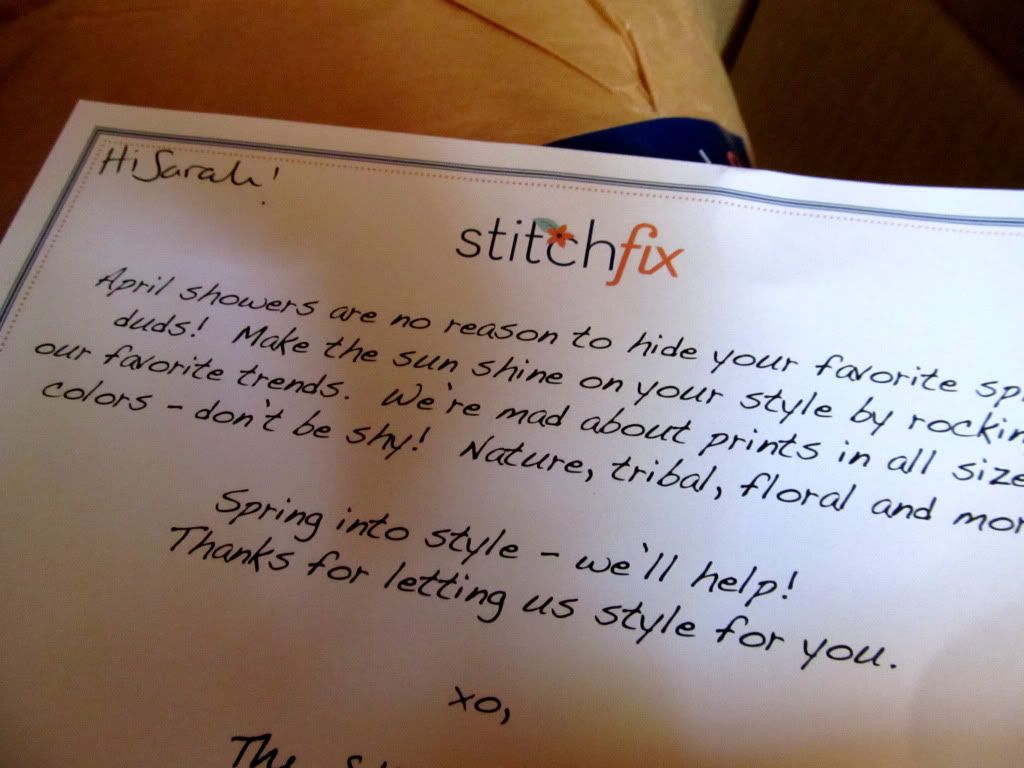 I love how much they personalize everything. My last fix had a lot of gray tones in them and mostly tops that I wasn't super fond of, so this time around I specifically requested some spring and summery skirts and dresses. They definitely came through.
DV by Dolce Vita Izzy Smocked Dress
I really really wanted to like this dress. In fact, I like it a lot better on the hanger than I do on my body. It's a really lovely silk/satin material but I'm just not a fan of the smocking in the top. It hugged what few curves I have which was great, and it made my chest look bigger than it really is (um, thank you!) but on the whole, it just wasn't for me.
Aryn K Josephine Pleated Maxi Skirt
This is one of my finalists. I am head over heals in love with this maxi skirt. I love the colors and I
love
the pleats. It's light and airy and I feel extremely graceful and pretty in it.
Jack BB Dakota Brantley Purple Peacock Dress
Another one of my finalists. This color is fantastic and the pattern, while I definitely get the peacock vibe from, reminds me of Van Gogh's "Starry Night" (This is the art student in me speaking). I love how flouncy and airy this dress is too. It's a similar material to the Dolce Vita dress without the smocking and I love the way it feels.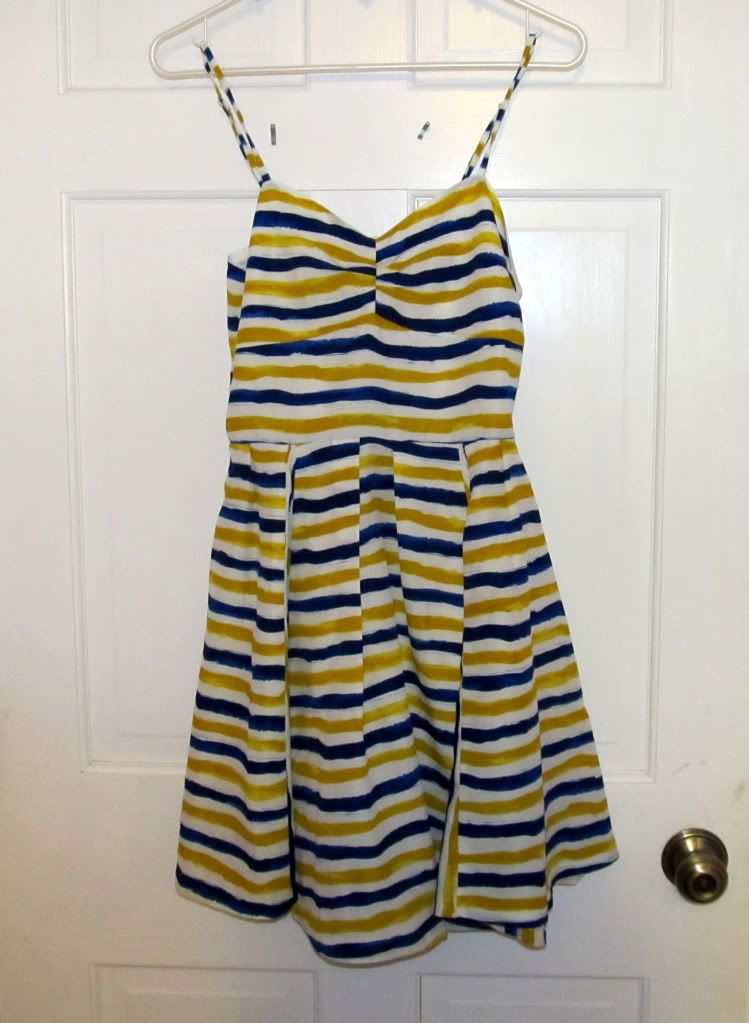 Jack BB Dakota Tiffany Yellow Stripe Dress
The last of the finalists, this is really similar in structure to the Brantley dress, but it feels a bit fuller and flouncier. It's an a-line dress which was really flattering on my figure and after modeling for my grandmother, was one of her favorites. I love the color almost as much as I love the print on the Brantley dress as well, especially the stripes.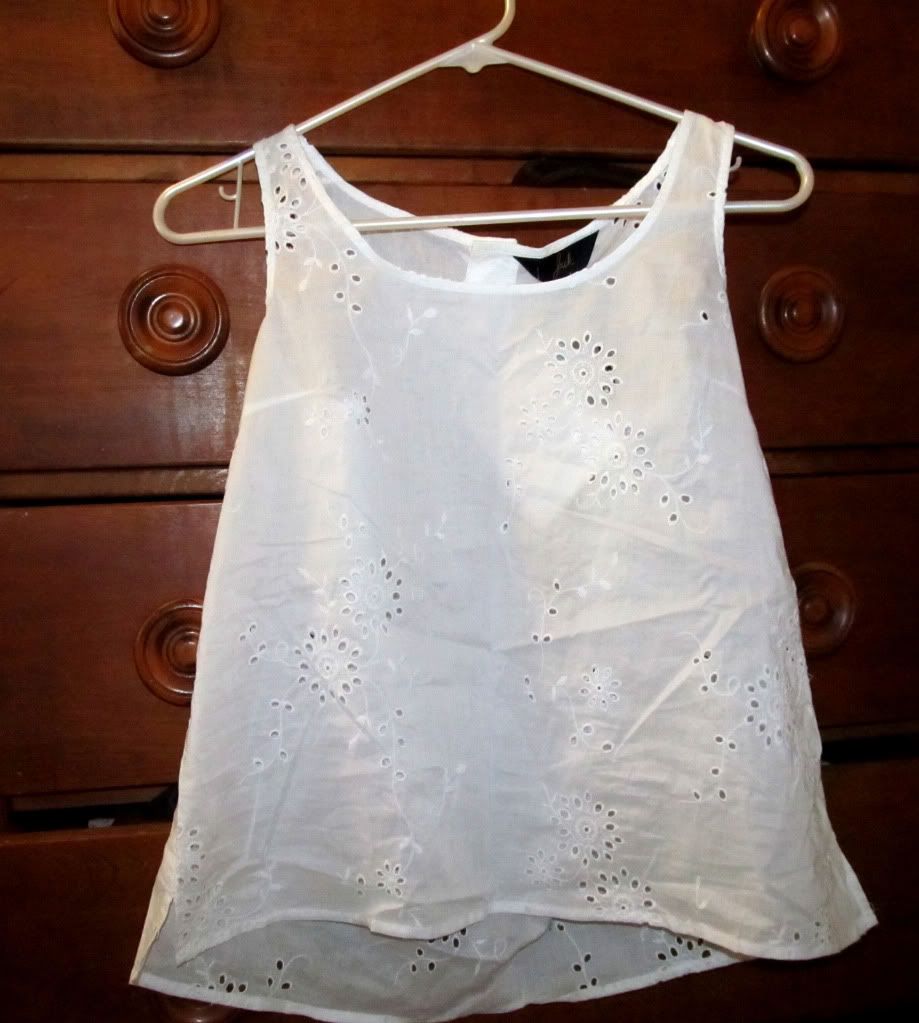 Jack BB Dakota Walter White Eyelet Tank
This just wasn't really my style at all. The moment I took it out of the box I knew it just wasn't going to be a keeper. I don't mind the eyelet so much, but the top was almost too structured. It's definitely oversized and loose which I like, but it was stiff and didn't really flatter me at all.
I'm still trying to figure out what I'm going to keep, I'm leaning most toward the two BB Dakota dresses, but I'm still not sure. That Aryn K skirt is just stunning. I'll be sure to update when I finally make up my mind!
Have you tried out Stitch Fix? What are your thoughts? Do you have an opinion on which item I should keep? Let me know in the comments!